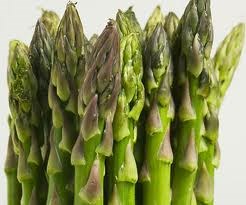 Linda Watson, Cook for Good
By Linda Watson
Cook For Good
WHY?
Nothing rids the body of winter's heavy, starchy foods like the green snap of asparagus.
It cooks in a flash but tastes like a million bucks.
It's a dairy-free way to prime your digestive track with pre-biotics.


WHAT TO DO WITH IT?
1. Raw: cut it in half length-wise and marinate in ginger-soy sauce for at least two hours.
3. Roasted: toss tender whole asparagus spears with olive oil and roast at 450°F for about 8 minutes until they start to brown.
4. Stir fried: cut tender stalks at a slant into bite-sized pieces, then stir fry in a little olive oil over high heat just until bright green. Spritz with lemon and sprinkle with sea salt.


THRIFTY TIP
Don't toss the woody stems you snapped off. Instead, cut just the bottom quarter inch away, then cut woody stems lengthwise to expose the tasty insides. Steep the woody asparagus stems in hot milk (I like coconut milk), then use asparagus "tea" for pasta sauce, soup, or quiche.


PICKING THE BEST
Fresh asparagus is one sexy food: firm and tight. Avoid wrinkled, flabby spears or ones that are turning brown and soft at the tip. Look for bright green asparagus, possibly tinged with purple. Purple asparagus is also fun. White asparagus is green asparagus that has been shielded from sunlight. It's more labor-intensive and expensive. I say go green.


KEEPING IT FRESH
Asparagus respires more than most plants after it has been cut. Buy local asparagus and use it immediately, if possible. If you must store it for a day or two, wrap it first in a damp towel, then in a plastic bag, and refrigerate for a day or two.


WHAT NUTRIENTS WILL I GET?
One cup of raw asparagus has only 26 calories but provides 70% of your daily vitamin K, 20% of your vitamin A, and more than 10% of your folate, iron, vitamins B1, B2, and C, tryptophan, copper, fiber, and manganese.
Asparagus is an excellent anti-inflammatory and antioxidant, reducing your risk of heart disease and cancer.
Asparagus is rich in inulin, which may reduce your risk of allergies and colon cancer. Inulin also helps prime your digestive track so it can absorb nutrients better.


Linda Watson is the author of Wildly Affordable Organic: Eat Fabulous Food, Get Healthy, and Save the Planet—all on $5 a Day or Less.  Find many free recipes and sign up for her free weekly newsletter on CookforGood.com. Follow Linda on Facebook and Twitter.
Seasonal Spotlight by Linda Watson is licensed under a Creative Commons Attribution-NoDerivs 3.0 Unported License. Based on a work at www.cookforgood.com.