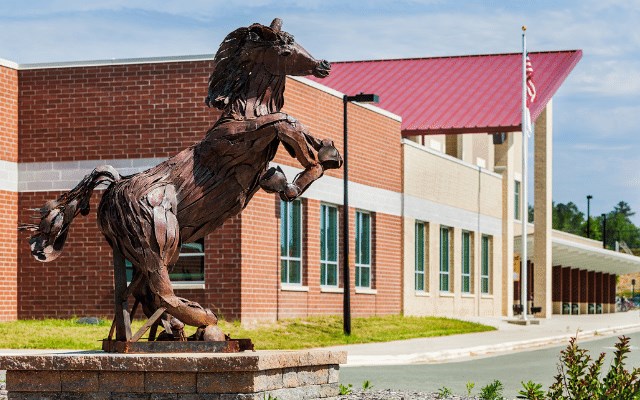 10 Outstanding Schools Near Briar Chapel
School will be back in session before you know it! If you are new to Briar Chapel and looking for the perfect place for your student, keep reading to learn about the schools in and around the community.
Primrose is an early education school that strives to deliver the best early education and care and believes that who children become is as important as what they know. Primrose School offers full programs on-site for infants, toddlers, early preschool, preschool, pre-kindergarten and kindergarten as well as after school and summer adventure club programs.
Primrose uses a Balanced Learning Approach, employs STEM-based learning and has a variety of programs in music, art, gardening, exercise, life skills and foreign language that are developed especially for Primrose's curriculum.
Woods Charter School is an on-site K-12 public charter school that has been ranked among the top US high schools by The Washington Post and recognized as an NC Honor School of Excellence, among many other recognitions.
Woods Charter School prepares its students for the future through excellent education, including 12 Advanced Placement courses, and personalized college counselling assistance.
Chatham Grove Elementary School is a K-5 school with 39 academic classrooms, a pre-k classroom, two self-contained exceptional education classrooms, two cultural arts classrooms, a media center, a cafeteria, a state-of-the-art security system, a gymnasium, a full-sized basketball court, two activity rooms and a kitchen.
At Willow Oak Montessori, students K-8 thrive in a personalized learning structure in which each child is free to independently choose his or her work throughout the work cycle and work at his or her own pace.
Willow Oak Montessori also has before and after school programs with multitude of games, crafts, reading, drama and music activities that focus on an array of social and leadership skills.
Willow Oak Montessori also has a tuition-based preschool for ages 3-5 called Willow Oak Children's House. At this preschool, children enjoy low student-to-teacher ratios, copious outdoor learning and parent participation in language, art and cooking projects. 
Margaret B. Pollard Middle School opened in 2011 at Briar Chapel as the first Gold LEED-certified middle school in the state and equipped with innovative green features.
At Margaret B. Pollard, students can learn at their own pace and pursue their interests through accelerated pathways for advanced students in math, STEM courses, arts courses, and robust extracurricular activities, such as an award-winning Envirothon team, National Junior Honor Society, competitive sports teams, robotics program and The Pollard Post Newspaper.
Selected as a Chatham County Schools PTEC Signature School and one of US News and World Report's "America's Best High Schools," Northwood High School has the highest SAT scores in Chatham County, ranking above national and state averages, and offers AP classes, 3A athletics teams, award-winning arts programs and a wide variety of extracurricular opportunities.
Seaforth High School is Briar Chapel's newest school that features a two-story building with an auditorium, gymnasium, spacious cafeteria, learning commons area, media center, cultural arts education wing, exceptional education classrooms and career technical education resource classrooms.
Central Carolina Community College is a top-ranked public education leader providing high-quality programs and training to students, such as college-level credit programs, short-term job training, high school and pre-college programs, distance education and business and industry training. CCCC's health and science campus is located right here in Briar Chapel.
UNC Chapel Hill, a nationally acclaimed university known for innovative teaching and ground-breaking research, is located a short seven miles from Briar Chapel. At Chapel Hill, students can study a variety of disciplines, including business, medicine, education, government, art, journalism, dentistry, law, nursing, pharmacy and more.
Visit our "Schools & Universities" page to learn more about the educational opportunities in and around Briar Chapel.
Located in Chapel Hill, North Carolina, Briar Chapel offers new homes from the $400,000s. Explore Briar Chapel's resort-style amenities, parks, trails, shopping and on-site schools, a community that has been named Best Neighborhood in Chapel Hill for seven years running!