Saussy Burbank's '12 Parade of Homes enteries at Briar Chapel
Tuesday, September 25, 2012
Jami Pearson
Marketing & Event Coordinator




 




 



Builder Saussy Burbank entered two Briar Chapel homes into this years Parade of Homes for Durham, Orange and Chatham Counties, so naturally I had to see them for myself!
Homesite 569
68 Owen Towne Road
Model: Teague
1,998 sq/ft
3 bed/2.5 baths
Detached 2 car garage                        
As I approached this yellow cutie, I fell in love with the stone columns along the front of the home. Much to my surprise, I later found out that the stone was harvested from Briar Chapel – How green (and just plain cool)! Upon entering, the openness of the floor plan immediately struck me. As a person who loves airy spaces with rooms that flow into each other, this is a place I would love to call home. There's even a nifty computer nook they placed under the stairs, right off of the kitchen; talk about a great use of space!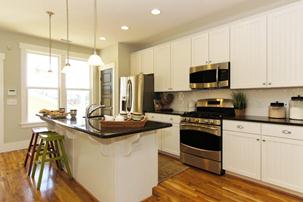 After exploring the main common areas, I began to take note of the "details" – granite counter tops in the kitchen; mullion strip cotting in the dining room; white oak, site-finished, hard wood floors; a fire place – and boy were there many. However, my favorite was probably the built-in bookcases. As an avid reader, the thought of displaying all my books out in the open (as opposed to storing them in my attic) makes me absolutely giddy. There's even a darling covered porch that I can envision myself sitting on while reading the aforementioned books after a long day. What a perfectly thought out home!
Homesite 602
39 Pokeberry Bend
1,713 sq/ft
Model: The Carson
3 bed/ 2.5 baths
Detached 2 car garage
$249,900                                            
Saussy Burbank's second parade entry, The Carson, is slightly smaller than its sibling. At 1,713 square feet, this home still has the open floor plan that I love. The kitchen, which has granite counter tops and stainless steel appliances, offers plenty of counter and cabinet space. Overlooking the always-beautiful Briar Commons park with large windows, this is a prime location with gorgeous views of perfectly maintained green space. Offering main-level living, the owners suite is just a few steps from the kitchen and offers a bathroom with a decadently deep garden tub. Bubble bath, anyone? In the same fashion as its other entry, Saussy Burbank makes great use of space – throughout my exploration, I found several storage places tucked away, including walk-in unfinished storage.
The Parade of Homes for Durham, Orange and Chatham Counties will run for the next 3 weekends, beginning 9/29, from noon to 5 pm. Come out and see these homes for yourself!
Recent Posts
---
Tags
---
Archive
2018

2017

2016

2015

2014

2013

2012

2011

2010