OktoberBEST at Briar Chapel – Backyard Athlete
Wednesday, September 21, 2011
Here we are only a week away! And we want to highlight another way for you to show of your skills in our Best Backyard Athlete competition. (If you aren't familiar with the OktoberBEST event, please see our earlier blog about our fall celebration.)




 




Best Backyard Athlete will take place at The Briar Club starting at 2pm.This event combines the best of athletic skill with a little fun and flair - you won't want to miss your chance to compete or view from the sidelines. Be sure to pull your team mates together and sign your group on early (in the end, it's every "man" for himself). The best male and female Backyard Athlete will prevail. Winners take home the starting Adirondack chair as well as tickets to the Pepper Festival.




 




Here is a sample of what you can expect:



Qualifying Round- All contestants will compete in the Disc toss, Cornhole, and Pepper Eating contest.
Playoff Round- Eight contestants will move on to the Obstacle Course, Dizzy Bat and Silly Shoe Hop Scotch.
Final Round-Four contestants advance. The first male and female to make GOAL in the Hippety Hop soccer shoot-out WIN!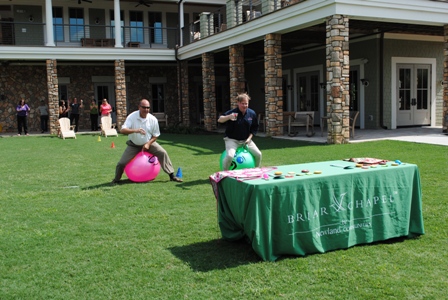 For further details click here. 
Even if you don't want to compete, come out to cheer on your favorites - and encourage your friends and family to participate! We will continue to share all of the fun details as we get even closer to October 2nd - OktoberBEST at Briar Chapel is where it's at!
Recent Posts
---
Tags
---
Archive
2018

2017

2016

2015

2014

2013

2012

2011

2010